Progress has been slow, because I have been otherwise occupied for quite some time.  Slow, but not entirely still.
Since turning Loper OS into an ab initio CPU architecture project, I have been using Xilinx development boards for prototyping.  For the past year ---  an ML-501.  The FPGA toolchain itself is (grudgingly) Linux-friendly, but those for many of the I/O chips included with the board are anything but.
For instance, on the ML-501 (and a few other Xilinx boards) there is a Cypress Semiconductor CY7C67300 "EZ-Host Programmable Embedded USB Host and Peripheral Controller."  Sounds useful, no?  The free SDK includes a few code examples.  Cypress also distributes an assembler, "QTASM.EXE" (included with the EZ-Host BIOS source code.)  The assembler is Windows-only but will run happily under Wine.  And it would not be too difficult to write your own assembler for this very simple and decently-documented chip.
The Cypress EZ-Host (also called EZ-OTG) should not be confused with the commonplace Cypress EZ-USB chip!  This is a rather different architecture.  None of the EZ-USB tools will work.
Know that the EZ-Host SDK is a cruel kick in the face to a Linux user, because Cypress's firmware-uploader and memory-dumper tool ("QTUI2C.EXE") will not run under Wine.  Nor is any source for the tool available.
Imagine there were a construction company which expected carpenters to cut wood only with pocket knives!  Vendors who expect embedded firmware developers to use MS-Windows are just the same.  But odder still are vendors whose SDK is a mix of the reasonably Linux-friendly and the purely MS-bound.  That is quite like mandating pocket knife-only sawing on even-numbered days of the calendar.  (One less-than-shocking example of this: Intel.  And, well, Cypress.)
But, my fellow Xilinx and Cypress sufferers!  The hour of liberation has come! I have written EZOTGDBG, a quick, rough replacement for QTUI2C.EXE. The sole dependency is libusb-1.0. The license is GPL-3.  Friends, please test EZOTGDBG on your boards!   But all normal caveats apply!  In particular, your system will release magic blue smoke under the right circumstances if you don't know what you are doing (or are merely unlucky.)  But if you own one of these toys you ought to have known that already.
All bug reports / hate mail / etc. for EZOTGDBG should only be submitted as comments to this post.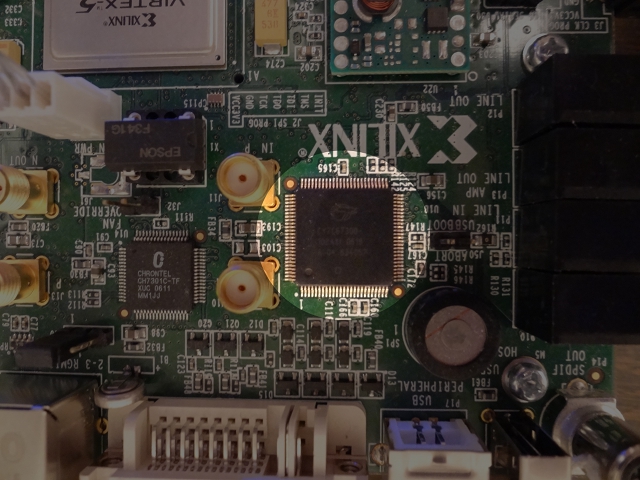 So what does any of this have to do with Loper?
The USB controller in question will eventually be used for the obvious purpose: as a USB host on which to hang traditional peripherals (keyboards, mice, disks, etc.)  But at that point, there will be no need to flash its firmware from the "mother ship."
But right now the 67300 sits on "ShortBus", the Loper prototype machine's rough analogue to the original Lisp Machine's "Spy Bus." The basic idea here is to inspect/manipulate state under remote control.
And so, something like EZOTGDBG is needed, to initialize the controller when Loper cannot yet be relied upon to do so.
Writing programs like this is a misery, but it cannot be entirely avoided if the kind of thing I have in mind is to go forward.
20 Responses to "Cypress EZ-Host Firmware Development Under Linux."