Looking for an inexpensive, robust Lisp system?  Consider this one: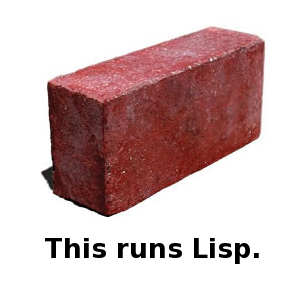 Tried it?  Not satisfied?
Well, don't blame me: it meets all of the basic qualifications for "Lispiness":
Does not hide the abstract syntax tree from programmers.
Does not force a non-modifiable syntax on programmers.
Does not impose an arbitrary order of sub-expression evaluation on programmers.
Does not force a bondage-and-discipline type system on programmers.
Does not create an arbitrary distinction between "run-time" and "compile-time."
There are a great many other things this amazing silicon device refrains from doing!
Such as, for instance... computing.  And yet, it is still a Lisp system!  Lispiness is best understood as a collection of certain unfeatures (that is to say, anti-antifeatures.)  Usually, unfeatures are easy to implement.  In most (though not all) cases, all a designer must do in order to implement an unfeature is to refrain from tying the user's hands in a particular way.
If you believe that the take-home message of this site boils down to "let's use Lisp!", this story is for you -- and the above computer should take the place of your PC, until you understand its moral.  Note that the word "Lisp" never once comes up in the Seven Laws page.
Lispiness is merely a starting point, a basic requirement for any halfway-decent mind-amplifier -- in much the same way that reasonable non-toxicity is a basic requirement for a tasty meal.
---
[1] Many more-or-less respectable Lisps are somewhat weak in unfeature #5.  Some so-called Lisps have quietly abandoned unfeature #4. And there are a few programming systems which lack unfeatures #2 and/or #3 -- and still manage to be called "Lisps" by some people!  There are even those who refer to systems lacking unfeature #1 as Lisps! What can we say to them?  Words have meanings!  To these lost souls, "lisp" is probably just a speech impediment...
6 Responses to "The Simplest Lisp Machine"